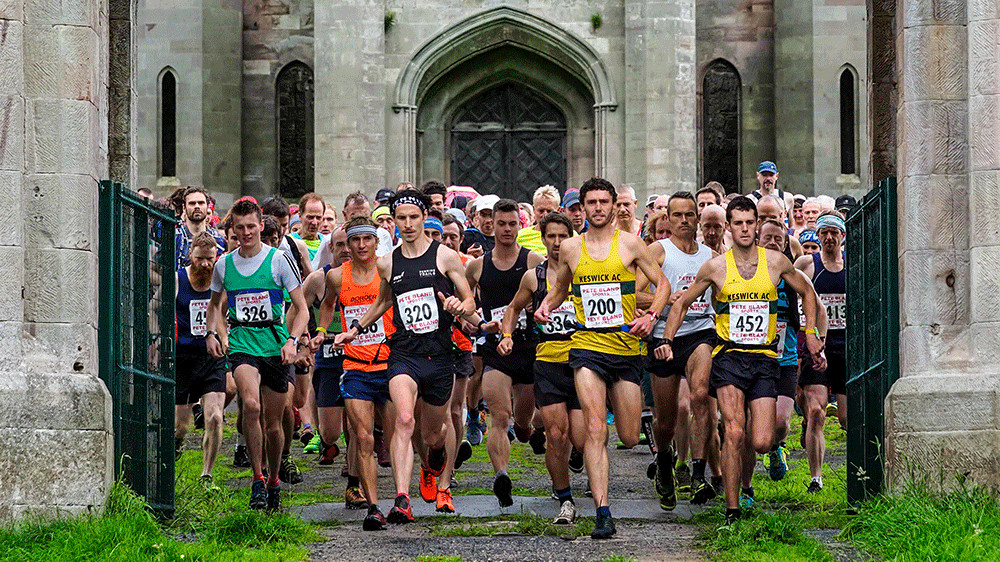 34th Lowther Lakeland Fell & Trail Run
Sunday 9th August 2020
Hurrah - UK Athletics and the FRA have given consent for our event. It is the first English fell race allowed to take place since March!
ENTER ONLINE | ENTRY LIST | EDIT MY ENTRY
Following government guidance on Social Distancing as at 10th July, the event will NOT be a Mass Start. Up to six runners may start every 5 minutes. Please think of this as an opportunity to race in a group of 6 mates or close competitors of similar ability - have your own micro race or burn up.
If you wish to run with 5 others of similar ability starting at the same time, it would be best if one person lets me know and I'll reserve an agreed start time. Then each person can enter for themselves and pick any start time still available. Give me the list of 6 names and I will then move all of you to the reserved Start Time. We have a few reserved times all the way through from 10:00 – 14:30.
To see when everyone is starting, please click on the Entry List which shows everyone ordered by Start Time. You can choose other sortations by clicking on the column header (but not if you are entering using a mobile phone).
Start Times - Please choose a Start Time from the list of available Start Times which you will see as you enter. Once all 6 starts for any given Start Time have been selected, the Start Time will be shown as unavailable. We will initially make starts available between 11:00 - 13:00. When most of these starts have been used, we will make also starts available between 10:00 - 10:55. When these are nearly full we will make starts available between 13:05 - 14:00 and finally 14:05 - 14:30.
Registration/Loos/Start/Finish - These are all located close together. Your cars will be parked less than 400M away. You must visit Registration exactly 20 minutes before your Start Time with all your race kit, ready to start and wear a face mask/covering when you register. There will be portable loos by the start. Leave everything else in your car and leave nothing at the Start/Finish. If you are travelling to the event by bike or on foot, please contact the organiser. You must carry your mask during the race and put it on again after you Finish as you are heading along the taped route to Download your SI-Card. You can take it off again after you leave Download.
Drinks - NO drinks will be provided on the Course or at the Finish. Please carry your own drink if it is a hot day or you think you can't complete 13 miles without a drink. Please only enter the race this year if you are a competent runner who can complete the course without any support.

Prizegiving/Results - you will receive a memento when you finish but there will be no prizegiving. You will receive a splits print but there will be no Live Results screen at the venue. Live Results will be available online as soon as you finish and we'll provide a link.
After You Finish - please don't hang around at the Finish after your mates in your Start Time group have finished. Please return to your car to change. the Castle Cafe is operating a take away service with tables/chairs in the courtyard and an extra coffee van will be present. You can also purchase tickets for Lowther Castle & Gardens online here before you come ot the event and save 10%. In the current situation it is best to purchase tickets online and avoid admin at the Ticket Office. The gardens are extensive with walks and play areas but if all you want is access to the cafe and courtyard, you DON'T need to purchase a ticket.

If the Castle Courtyard it becomes too busy, we will ask you to turn back and for this reason it is worth bring some food/refreshment with you just in case.
Spectators - we aren't encouraging specatators to be at the Start/Finish but please see details of the gardens and cafe/courtyard above.
The Route - the 34th Lowther Lakeland Fell & Trail Run starts in front of Lowther Castle. Lowther is located 3 miles to the south of Penrith, just to the west of the A6. GR521 240, CA10 2HG. Registration will be from 09.40am. The race takes place under FRA Rules and the minimum age is 18.
This scenic route crosses Askham Fell and the Lowther Valley. It is a fully marked 13 mile route with about 1400ft of ascent. The route has about 3 miles of tarmac and the rest is mostly open country with grassy and gravel tracks, also about two miles crossing rough pasture.
The route climbs through Askham village onto the fell to Heughscar Hill where you will find the first SPORTident timing station. The route turns south and descends to the Cockpit and onwards across the valley of Heltondale to Butterwick. You will get your feet wet when you ford the River Lowther! A stiff climb follows onto Knipe Scar to the most southerly point on the course and the second SPORTident timing station. From here the route turns north across the grassland of Lowther Park to Whale. A track above the river Lowther leads you to the finish at Lowther Castle.
Although there are a few short but flattish sections on rough ground, we think that trail shoes will be more suitable than fell shoes and the fastest runners could even consider wearing trainers. It depends on the conditions underfoot. You must come to the event equipped with a lightweight raintop and full leg cover which we will ask you to carry if the weather is wet.
The event will use SPORTident Timing and each competitor will carry a SIAC. These are contactless timing cards and are attached to your wrist. You use them to record your visit/time at the 2 timing points and the finish. They can be hired for £1.50 and collected from registration or you can use your own if you have one to avoid the charge. PLEASE NOTE THAT ONLY SIACS MAY BE USED, NOT TRADITIONAL SI-CARDS.
Competitors may run with a dog "canicross style" but the dog MUST be on a lead at all times and runners must not allow their dogs to impede the progress of other competitors. The route passes through fields with livestock, so please be really sensible if you are running with a dog on a lead.
If government guidelines change and it is no longer appropriate to hold the event, I will make a full refund to all current entries
Event Entry Fees
Enter Online - £12 (until 20:00 on the evening before the race)
No Entry on the day
Under FRA Rules: Minimum Age 18
Records M: C Holdsworth 01:18:56 – 2019, F: J Zakrzewski 01:35:35 – 2016
Enquiries to Event Organiser: Martin Stone – martin.stone@sportident.co.uk – 01931 714106
Photos
Results